How to Convert HEIC to PDF on Windows
Some people use their smartphones to take photos of important documents and notes. However, with Apple developing its file format through HEIC, some users might have difficulty organizing necessary paperwork. One way to go about this is to convert images to PDF format. PDFs provide the convenience of having all information about one topic in one place, as long as the user organizes it according to their purpose.



However, HEIC files are not universal-some devices are not able to read them. This limitation makes it difficult to organize the photos in one place, like in a PDF. Despite these obstacles, there is still a way to turn HEIC images into a single PDF file.


How to Convert HEIC Format to PDF on Windows

HEIC images can be converted into other image formats. One example is JPG, which is commonly used for images. The website HeicFile.com allows users to turn photos into a variety of forms, including JPG. This is the first step to covert HEIC to PDF.

Heic File makes conversion from HEIC to JPG possible. When you select files for conversion, you do not upload anything to the server. Instead, everything is done offline through JS technology. This process is secure and free.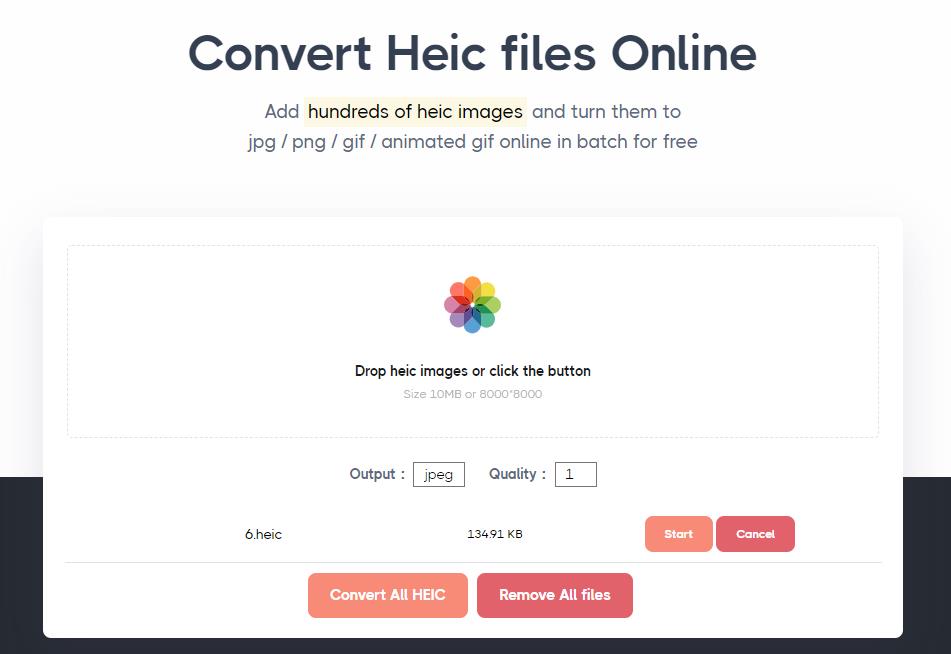 For converting HEIC to JPG, follow these steps:

- Key in HeicFile.com on your browser's address bar.

- Once the website has fully loaded, select "Drop HEIC images or click the button." The site will prompt your Windows computer, allowing you to select photos in bulk. You may also choose multiple images from Windows Explorer, then drag them to the website.

- When the images have been selected, make sure that the Output is set to "jpg." Adjust the quality based on your preferences.

- Click the "Convert All to HEIC" button.

- Wait for the conversion process to finish. Then, the HEIC files should now be in JPG format.


Converting JPG to PDF


After converting your HEIC photos to JPG, you may now begin the process of generating a PDF. First, you will need to use a tool to combine your photos into a single PDF file. One way to do this is the JPG to PDF Converter.



You must first download the installer JPG to PDF Converter. Then, follow the steps to install the program on your Windows computer. Afterwards, you may proceed with the conversion using the steps below:

- Select the "Add" button to queue an image for conversion. You may also choose "Add Folder" to select an entire image folder instead.

- Input the Document Title, Subject, and Keywords. You may also adjust the Compression Quality based on your preferences.

- Choose "Convert to PDF now" and wait for the process to finish.

- You now have a PDF with all your images in one file.


Why not use an online tool to convert HEIC to PDF directly?


Some people might prefer to use web-based tools to convert HEIC files directly to PDF. While there are sites that promise convenience, they also require payment for you to use their service. Others impose a file limit that could prevent you from putting together large HEIC files. It helps to be mindful of your purchases, especially if there is a free alternative. Using these resources can help you cut back on unnecessary costs.



In addition, some websites might require you to create an account. You would have to input your name, address, email, and sometimes, payment information. When many sites are prone to cyberattacks, you should be mindful of sharing your information with others. It would be challenging to face the issue of identity theft or unauthorized purchases.

You no longer have to pay for services since you are now knowledgeable of free tools that turn HEIC to JPG and then to PDF. This helps you save money and also keeps your information secure. For example, HeicFile.com prevents you from uploading images to web servers since everything is done offline through JS technology. In addition, using the JPG to PDF Converter program keeps your conversions safe, secure, and accessible.

With no payments necessary, it helps to be aware of free tools that can turn your images into an accessible PDF. That way, you have all the resources you need without spending any penny.